Please use the Search Box above to search for keywords related to your issue. Using one or two keywords works best.
For quick answers to general usability questions, we recommend your visit our friendly
Trainz forums,
To submit a Support Ticket, click on the Troubleshooter Button, then follow the steps through to the appropriate Category. Login using your Simulator Central or MyTrainz Username and Password.
NEW HELPDESK REQUIREMENTS
To ensure we can provide quality, timely responses to as many customers as possible, we have made some changes to the helpdesk support service.
We will only support tickets submitted in English. Please use an online translation tool to translate your messages.
We will assist users with problems related to orders, downloading, installation or access only.
Any questions about general product usage will be referred to our community forums, Trainz wiki and Knowledgebase articles.
If your ticket does not meet these requirements, you will receive a standard response informing you of the new requirements.
Thanks for your understanding.

Posted by N3V Games (Paul) on 03 August 2015 04:34 PM
This article is for TANE Pre Service Pack 1 patches. For TANE Service Pack 1 or newer, please see TANE Patch Installer
The auto-patcher appears when a new update is available on the patch server.
Note, this guide shows the Windows version of Trainz. The steps will be very similar, or the same, for the Mac version.
You can also manually trigger the update by clicking Launcher > Trainz Settings > Install > "Check for T:ANE Updates".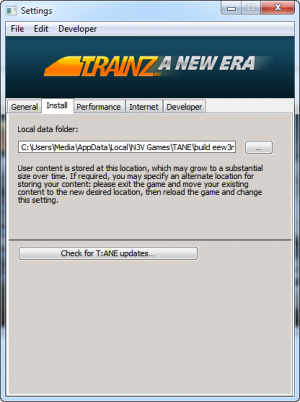 You will then be notified if a patch is available or not.

Simply click OK to begin the process which involves downloading the small T:ANE Patcher program.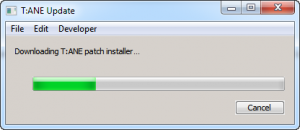 Once the Trainz Patcher is downloaded, you may see a request to provide permission for the patcher to access your computer.
Click on Yes.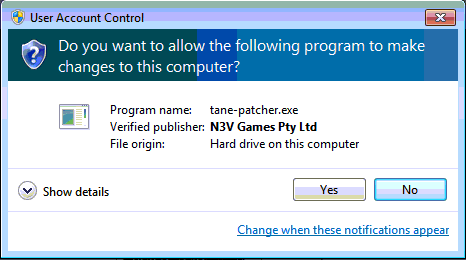 Once you click yes, the updating process begins and you can follow progress in the window as shown below.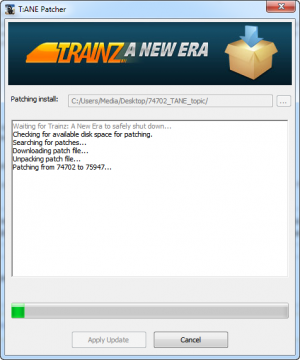 Patching Steps: (the entries below in italics will show in the download progress window)
Waiting for Trainz: A New Era to safely shut down… This step may take a minute or so
Checking for available disk space for patching.
Searching for patches…
Downloading patch file… The progress bar will show how long this step will take. The speed of the download depends on your Internet connection. The initial patch is 8GB and may a long time to download. Future patches are likely to be much smaller (Hotfix 1 is roughly 30MB)
Unpacking patch file… This step takes the downloaded file and prepares it for patching
Patching from xxxxx to xxxxx… Again the progress bar will appear (after a minute or so preparation). This time this step takes depends on your hardware and could take from a few minutes to an hour or so.
No (more) patches at server for version: xxxxx
Updating Trainz asset database… This step is the final stage and may take several minutes.
Patch Complete
Troubleshooting:
If prompted, allow T:ANE Patcher.exe to make changes to your computer.
If you are stuck at: "Waiting for Trainz: A New Era to safely shutdown" – either cancel the patch and start again running the patch from the launcher i.e. do not have a game window open. Or use Task Manager to shut down TANE.exe and the patch will continue. (Do not shutdown tane-patcher.exe)
If you DO NOT receive the Patch Complete message, your update has failed and you are likely to have problems. We suggest that you reinstall the game and begin the process again.
If your T:ANE windows do not all shut down safely, or your patch stalls, cancel the patch, and restart the process with only the Launcher window open
For Mac, if you see a screen showing "Ready to Begin" with no option to continue, then please download and install the online patch installer for TANE.
If you cancel the patch for any reason, you should see an error similar to the one below. If you don't, your patch may not have ended correctly and data may be lost. We suggest that once you start patching you allow it to finish.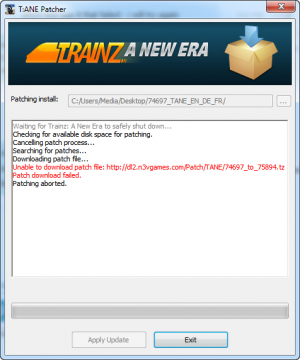 If you receive an error such as the one below, it is likely that your install is corrupt. You will either need to reinstall your original version and reapply the patch, or access the latest full install version and install that directly.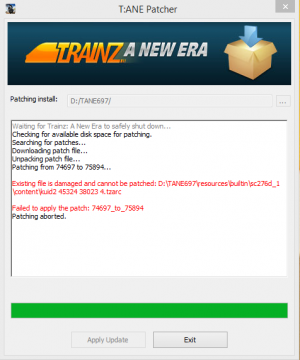 Tags: update, service, pack, download, auto, fail, install
---