Please use the Search Box above to search for keywords related to your issue. Using one or two keywords works best.
For quick answers to general usability questions, we recommend your visit our friendly
Trainz forums,
To submit a Support Ticket, click on the Troubleshooter Button, then follow the steps through to the appropriate Category. Login using your Simulator Central or MyTrainz Username and Password.
Note: Support tickets are generally answered in 1-3 days. Your patience is appreciated.
Knowledgebase

Downloading and Installing from SimulatorCentral.com
Posted by N3V Games (Paul) on 09 July 2015 08:10 AM
This article will provide step by step instructions to find and download products ordered from SimulatorCentral.com
Step 1:
Log in to SimulatorCentral.com using the same login as when you ordered the item.
Step 2:
Click on My Downloads to show a list of your downloads.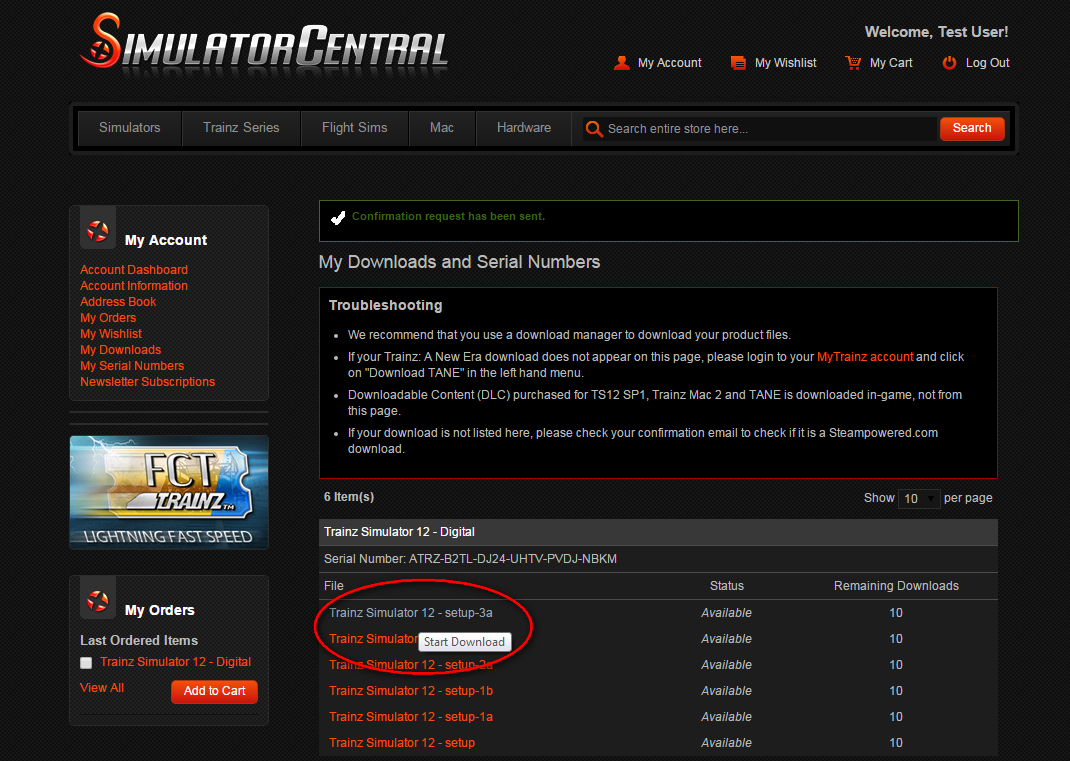 Step 3:
For Trainz Sim 12 click on EACH of the setup file links to download all 6 files (see image below).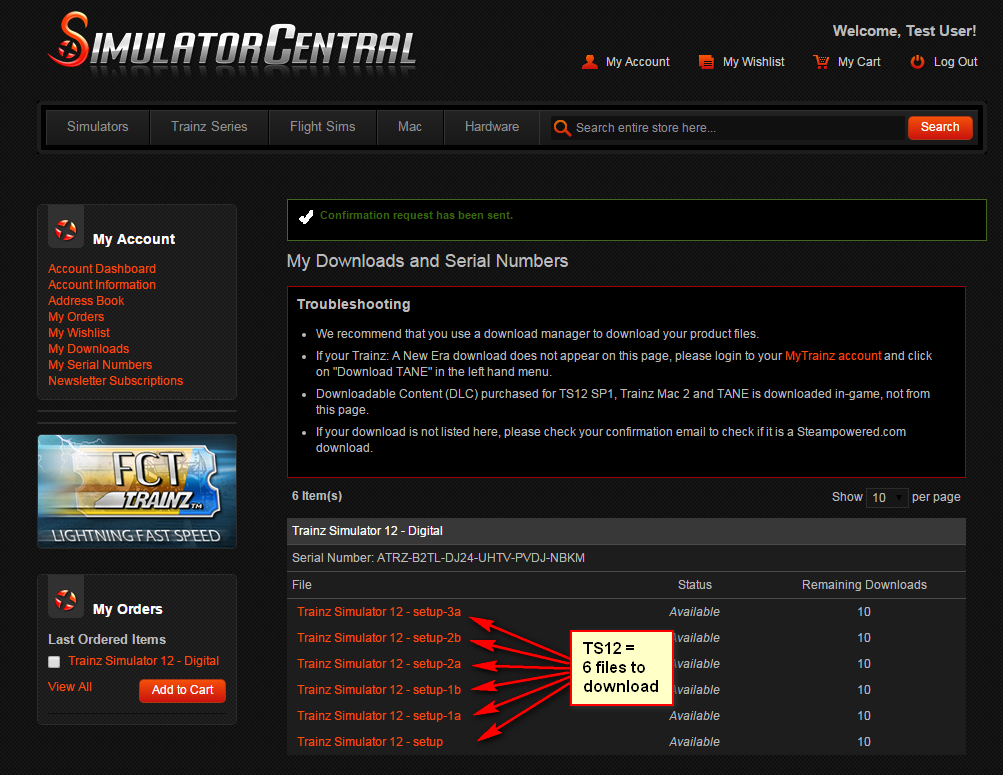 NOTE:
For Trainz: A New Era downloads, choose only ONE of the mirror sites - each of these sites has the same file available.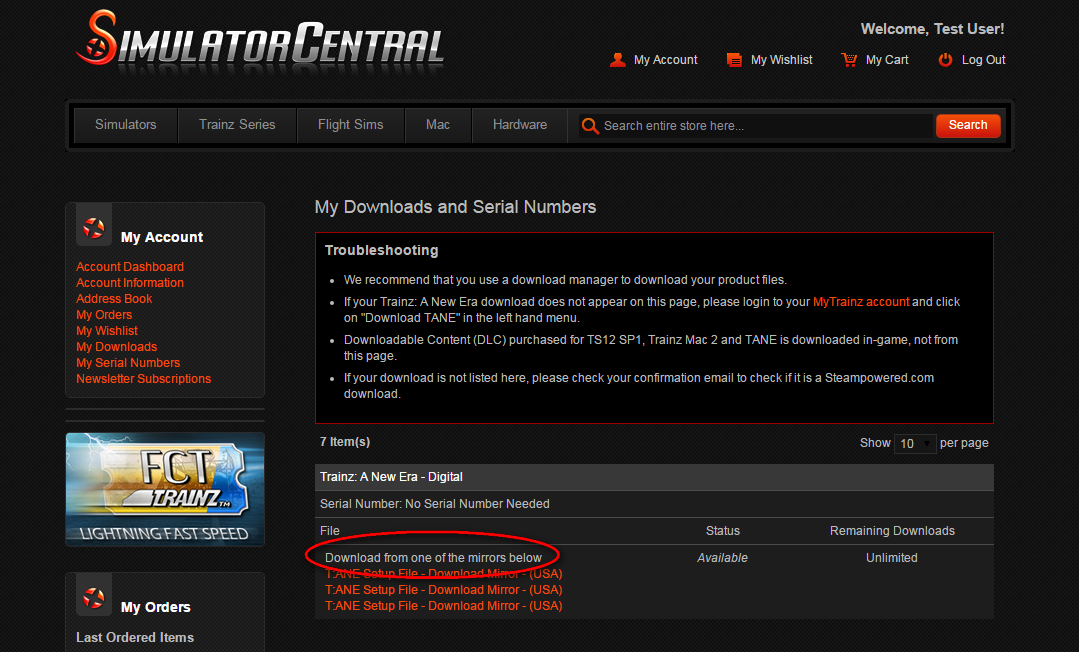 Step 4:
If left-clicking does not commence the download, you can use right-click "Save As" and then choose the location to save the files(s).
Step 5:
Once your download commences, you can track progress in your browser.
To show your downloads use Ctrl-J (in IE, Chrome or Firefox).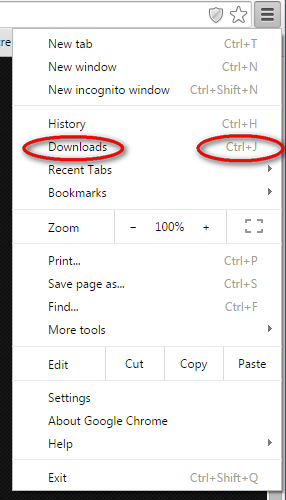 Step 6:
View the list of Downloaded files and when all files have downloaded, click Show in Folder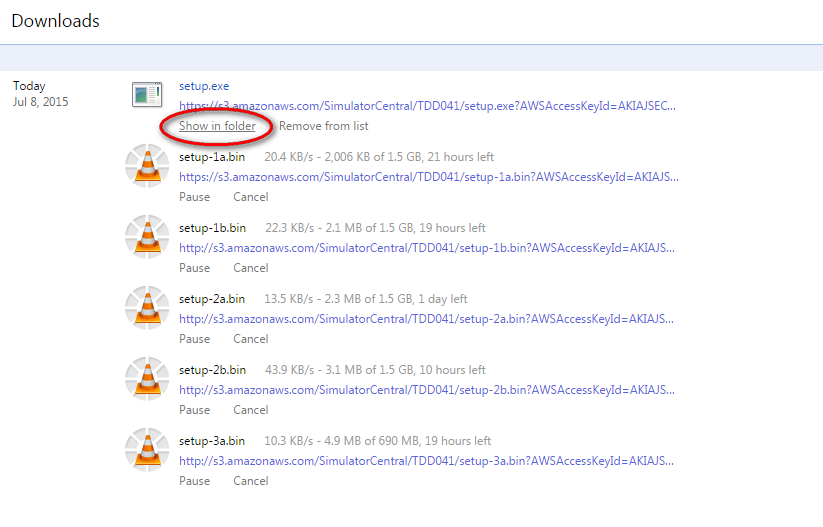 Step 8:
You are now ready to install your downloaded item. Sometimes you will need to unzip the file first, and other products are ready to begin installing by double-clicking the setup.exe file.
(You can ignore any "publisher verification" warnings).
TROUBLESHOOTING:
We recommend that you use Google Chrome to download.
Copy your serial number from the My Downloads area (if prompted) during install
Do not try to run Setup prior to downloading all files
All files must be in the one folder to run setup
If the setup file is not recognised, or you are asked to Open the file, then right-click the file > Rename and add .exe to the filename, then double click the file to launch the installer
If you are asked to Insert a Disk, usually means you have not completed downloading all the required files, have unzipped the files into a different location from the setup file or they have been renamed by WIndows when downloading. For example: setup(2)-1a.bin is the incorrect file name. The (2) is added if you redownload the same files multiple times.
The correct naming convention is setup-1a.bin
Use Winzip, 7Zip or Winrar to unzip the files
If you have any problems during this process, please reply to this ticket and include information on which step could not be completed and what error message you are getting.
Tag: Insert disk, insert disc, disk error, disc error
---